Success Factors for Launching & Leading a Campaign or Major Gifts Initiative (In Person or via Zoom)
10/20/2023 12:00 PM - 01:30 PM PT
Admission
Location
San Francisco, CA
Description
To register for the event at the $20 DER member price you will need to sign in to your account before registering. Not a member? Click here to join DER or renew your membership!! The event registration deadline is Thursday, October 19th at 5 PM.
• • • • •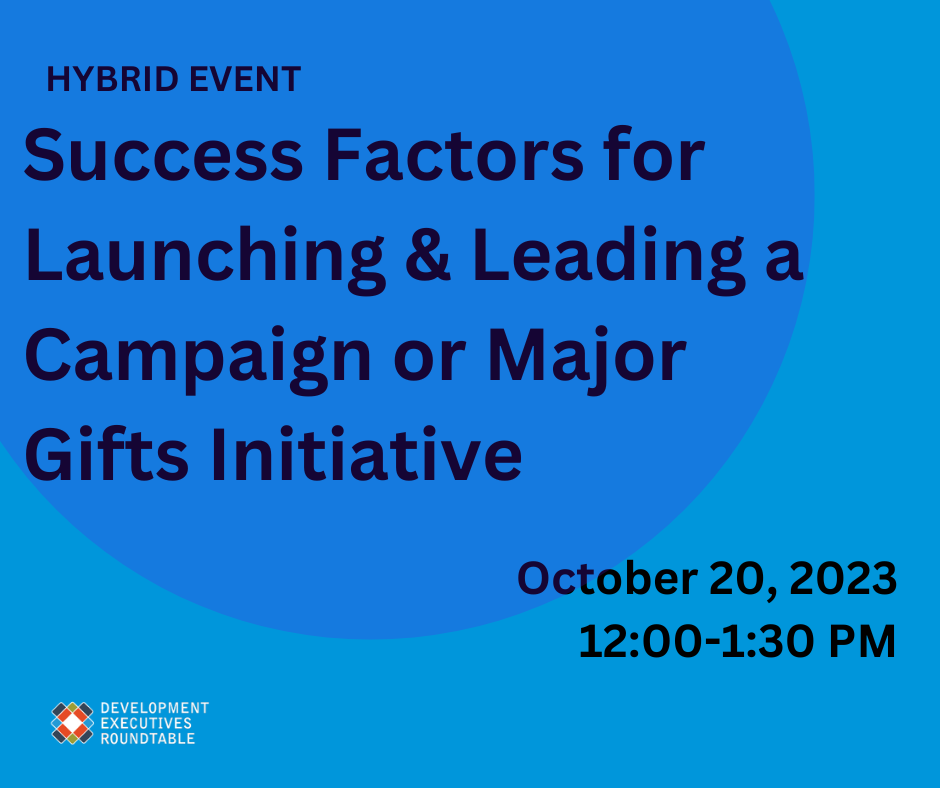 The in-person attendance is limited to 25 people. RSVP ASAP!
San Francisco Foundation
One Embarcadero Center, Suite 1400
San Francisco, CA 94110
DER Hosts: Shaké Sulikyan & Gema Cantu
Are you considering launching a major fundraising effort and questioning what it is you need to know before moving forward? In this session we will go over basic readiness steps, critical success factors, what to expect in campaign mode, and your role in making it all happen.
Specifically, in this session you will learn:
What is the right time to consider launching a campaign,

What are the critical factors for a successful capital initiative,

What are important readiness steps and what do they entail,

Who needs to be involved and on what level including your role, and

What are some common pitfalls and mistakes?
This program will be a combination of a presentation by Melissa Irish and Lisa Folsom-Ernst, and a conversation to address specific questions and learn from each other.
Panelist:

Melissa Irish, President & Founder, Lotus Consulting
Melissa Irish, MBA, is a seasoned resource development specialist with thirty years of experience raising private sector funds for nonprofits with budgets from $250,000 to $20 million. She spent a decade in senior development staff roles in health and human services, workforce development, and the environment before completing her MBA. Prior to that she earned a BS in Health Sciences and Women Studies and volunteered for a year in Nicaragua working with women and children in impoverished communities helping them access education, legal, and health care services. In 2023, she launched Lotus Consulting, a full-service fundraising consulting firm bringing together a team of experts to continue this work and focus her clients on balancing margin with mission to unleash possibility. Melissa specializes in creating effective individual giving programs excelling in helping organizations build their capacity to raise major gifts. Melissa brings the "fun" into fundraising and believes every member of an organization – paid and volunteer - has a critical role to play in attracting the resources necessary to fulfill a mission.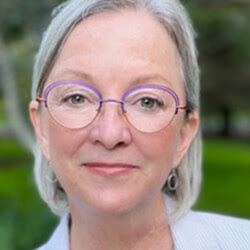 Lisa Folsem-Ernest, NonProfit Partner
Lisa Folsom-Ernst has been helping North Bay nonprofits build capacity, articulate impact, and raise money to fuel their services for the past 20 years. She received her MSW from Hunter College in New York City, and while working to develop social services for formerly homeless families in the Bronx, became convinced that funding was key to any mission-driven organization's ability to succeed. For this reason, she pivoted to raising funds for nonprofits, primarily in the human services/social justice sector. Most recently, Lisa served for 12 years as Development Director for Becoming Independent, one of the North Bay's largest and strongest organizations serving adults with developmental disabilities. She worked closely with the CEO and board of directors while growing a strong development team that made significant gains in individual gifts, grants, special events, and legacy commitments. During her tenure, annual giving increased five-fold. Lisa admires those who are passionate about making the world a better, more equitable place, and enjoys playing a supportive role in bringing their dreams to fruition.
Hosts:


Gema E. Cantu, DER Board Member, Associate Director of Development and Communications at LeaderSpring Center, Development Executives Roundtable

Born and raised in the Valencia district of San Francisco, Gema strives to provide arts education, access, and culture to her community. As a Latinx woman of color working in the development field, Gema looks to re-image the traditional culture of the fundraising world and implement new fundraising approaches that integrate Inclusion, Diversity, Equity, and Access (IDEA). In addition, she believes in providing support to fundraisers of color and connecting them with professionals in the field to enhance their fundraising skills.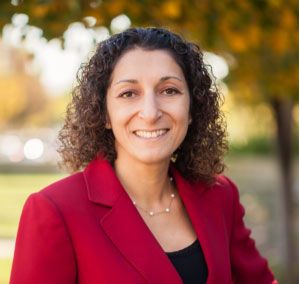 Shaké Sulikyan, Executive Search Consultant, Boyden; Programs Chair, Development Executives Roundtable
• • • • •
Registration for this event is required. If you have an account, please log in before registering for a DER event. The cost of the event is $20 for DER members and $45 for non-members. (NOTE: To receive the discounted members' rate, you must sign in to your account before registering.) Click here to join DER or renew your membership!! Registration deadline is Thursday, October 19th at 5 PM!
• • • • •
Cancellation Policy: If you contact us to cancel your registration before the deadline (10/19 at 5pm), you may receive credit towards a future event. If you cancel your registration after the deadline, the payment will be considered a tax-deductible donation to DER. Thank you for your support!
• • • • •
Venue: This social event will be held on a virtual Zoom. Final details will be sent to all registrants the evening before the event, 10/19 by 8 PM from DER's Administrative Assistant. A reminder will be sent to each registrant the morning of our panel to each registrant's email address from administrator@dersf.org. Please be sure to check your SPAM or Junk folder for the Zoom information or contact administrator@dersf.org if you have NOT received an email with your event details and information the morning of our event.