How to Manage Up, Down, Across, & Yourself
07/14/2023 12:00 PM - 01:30 PM PT
Admission
Description
To register for the event at the $20 DER member price you will need to sign in to your account before registering. Not a member? Click here to join DER or renew your membership!! The event registration deadline is Thursday, July 13th at 5 PM.
• • • • •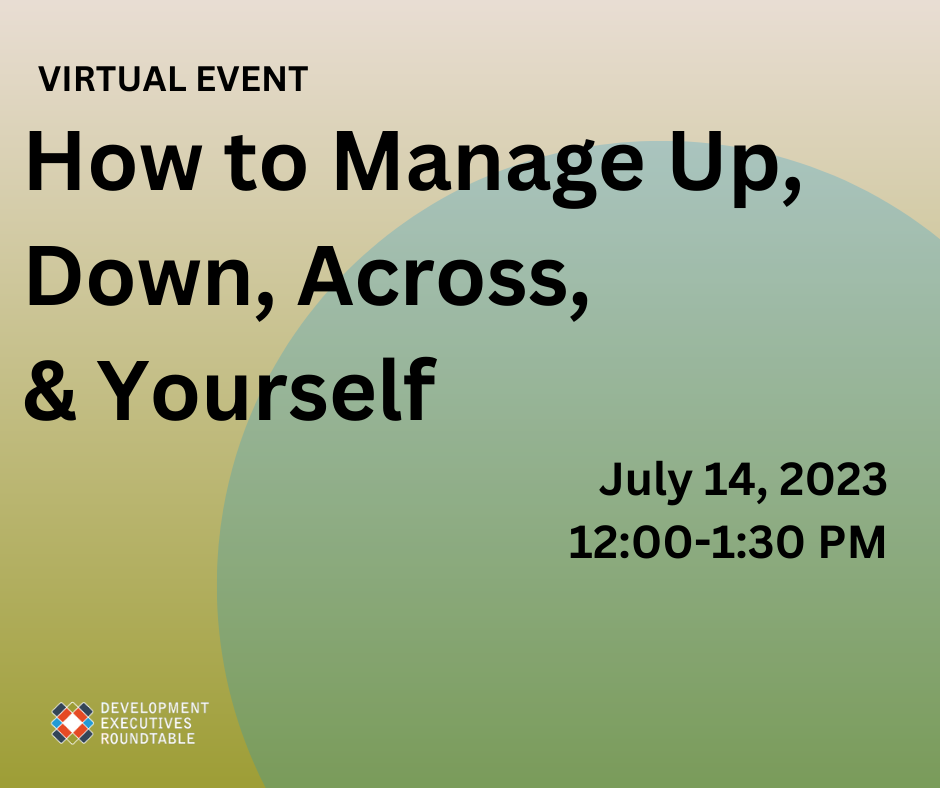 As a nonprofit professional, you're pulled in many different directions. To be successful in your role, you need to master the art of managing up, down, across in your organization while also managing your own work.
This program is designed to provide you with practical tips and strategies that you can apply immediately to improve your performance, help your team and organization, and achieve your goals.
Dr. Vera Packard, a former nonfprofit CEO and medical doctor, will share with us her prescription for success. In this program , you will learn:
how to communicate effectively with all your stakeholders, internal and external.

how to keep others accountable, by delegating effectively and managing conflict, as necessary.

how to build and lead high-performing teams, of staff, colleagues, and/or volunteers.

how to motivate others to achieve their full potential.

and finally, how to do all of the above in a manner that allows you to enjoy the ride with your team.
Panelist:

Dr. Vera Packard, Principal CEO, Phoenix Life & Career Coaching


Dr. Vera Packard is a Life & Career Coach. Before becoming a Coach, Vera was a medical doctor for 20 years. She earned her master's in medicine in Brazin, and specialized in breast cancer in London, UK. She moved to the US in 2033 and decided to reinvent herself. She started a new career as the Executive Director of nonprofit organizations. She managed two organizations focused on cancer patients for 15 years.
Vera is a Certified Professional Coactive Coach and member of the International Coaching Feneration. She is passionate about inspiring people to live their best lives and thrive.
Moderator: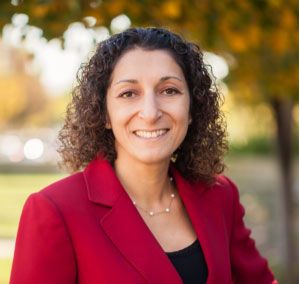 Shaké Sulikyan, Executive Search Consultant, Boyden; Programs Chair, Development Executives Roundtable
• • • • •
Registration for this event is required. If you have an account, please log in before registering for a DER event. The cost of the event is $20 for DER members and $45 for non-members. (NOTE: To receive the discounted members' rate, you must sign in to your account before registering.) Click here to join DER or renew your membership!! Registration deadline is Thursday, July 13th at 5 PM!
• • • • •
Cancellation Policy: If you contact us to cancel your registration before the deadline (7/13 at 5pm), you may receive credit towards a future event. If you cancel your registration after the deadline, the payment will be considered a tax-deductible donation to DER. Thank you for your support!
• • • • •
Venue: This social event will be held on a virtual Zoom. Final details will be sent to all registrants the evening before the event, 7/13 by 8 PM from DER's Administrative Assistant. A reminder will be sent to each registrant the morning of our panel to each registrant's email address from administrator@dersf.org. Please be sure to check your SPAM or Junk folder for the Zoom information or contact administrator@dersf.org if you have NOT received an email with your event details and information the morning of our event.